The property
Managed since 1975 by the Lanza family, Hotel dell'Angelo is actually more than 100 years old.
Recently renovated, it offers 19 rooms and 3 flats, a bar and lounge, a spacious restaurant and a summer veranda with an outdoor garden. Here you can enjoy four private areas surrounded by greenery, which can be used in the warmer seasons for outdoor lunches and dinners.
One unique feature inside the dining room is a portion of a mosaic that belonged to the adjacent Roman villa, dating back to 200 AD, which was the property of Consul Arrio Mucciano.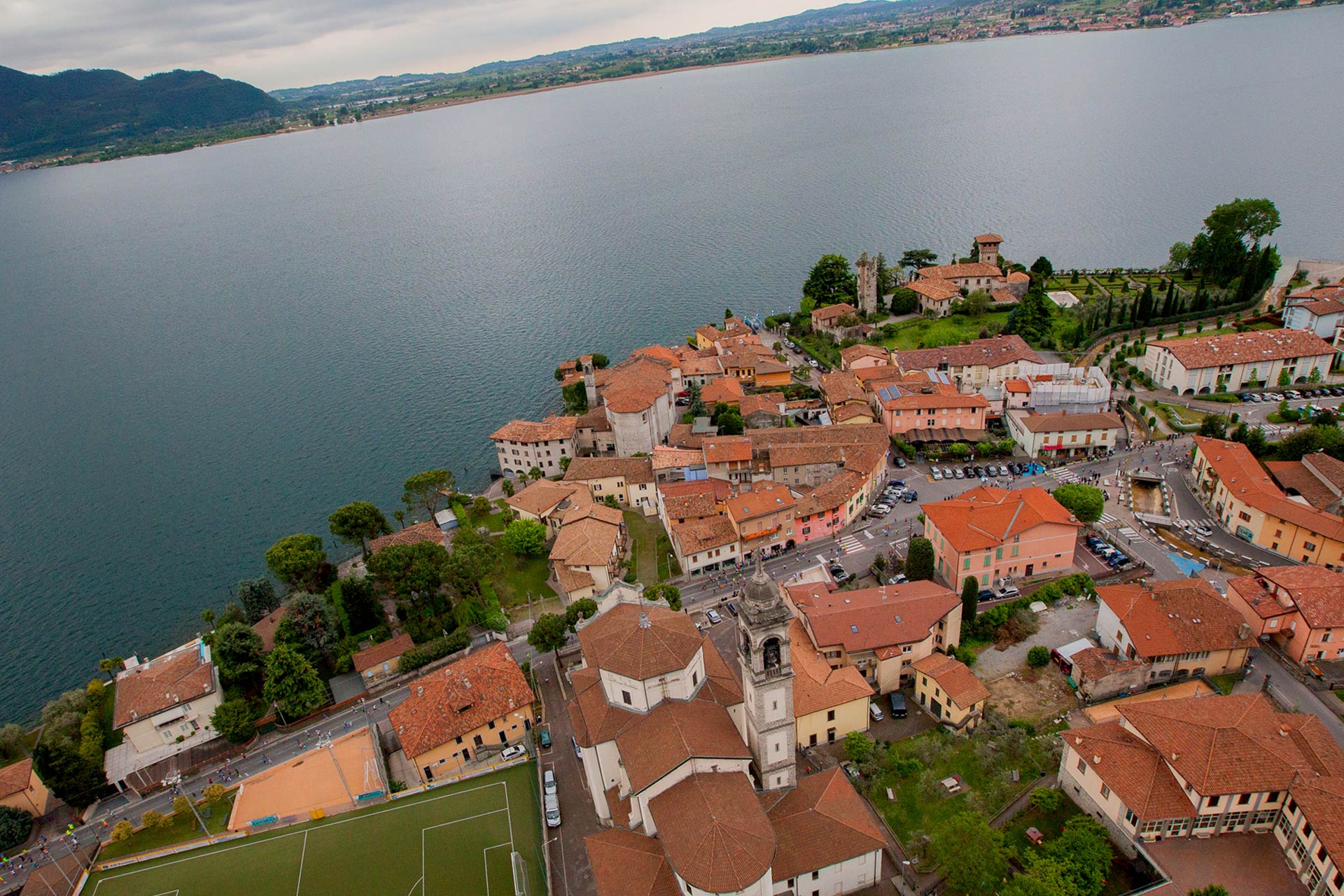 An enchanting

position
We are in the historic centre of Predore, a medieval village in the province of Bergamo, close to an ancient Roman villa with thermal baths which can still be visited today, and a stone's throw away from one of Lombardy's most beautiful lakes, Lake Iseo.
We are located near the Torre Dimezzata (Halved Tower), just 100 metres from the marina and 50 metres from the pier for ferryboats, with which you can reach all the towns on the lake and the renowned Montisola, the largest lake island in Europe.
Despite its proximity to the lake, the view from the hotel looks onto the main square of Predore, dominated by the church with its bell tower and the magnificent view of the mountains, which form a picturesque backdrop to the medieval village.
The surrounding area, which is little affected by the hustle and bustle of nearby Bergamo and Brescia, is the ideal place for a relaxing and comfortable holiday immersed in nature.
Our

services
The hotel's warm and welcoming atmosphere is ideal for receiving Italian and foreign tourists in all seasons. A perfect starting point for visiting all the attractions of the territory.
We are open all year round and can be reached easily.
We welcome groups of a minimum of 15 and a maximum of 40 people by reservation at special rates.
We also have convenient parking facilities nearby and access, lifts, rooms and facilities for the disabled.
As an added value to the property's strategic location, there are also several useful and indispensable services available in the immediate vicinities, such as a minimarket and a chemist's.
Discover our room
Delicious traditions

for every palate
Healthy, genuine ingredients comprise the menus in our restaurant: from hearty breakfasts and delicious stuffed pizzas, to weekly themed menus and vegetarian dishes, our chefs enhance each creation with the freshness of local and seasonal produce.
Browse our menus